David Latterman, GIS Mapping Expert and Data Analyst
---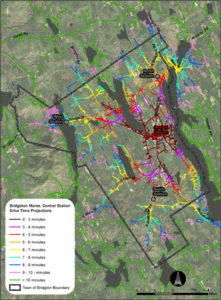 David Latterman, GIS Mapping Expert and Data Analyst has 25 years of experience and is an expert in data analysis and mapping. He joined PSSG in 2007.
Mr. Latterman has conducted technical and analytical research on a variety of topics, including police practices, counterterrorism, resource allocation, and health policy issues. He assists PSSG with data coding and mapping, allowing municipalities to make informed decisions using existing data while improving data reliability and management.
Mr. Latterman has contributed to numerous reports including the Statistical Analysis of San Francisco Transportation Patterns, Police/Crime activities, Time-Study Analysis of California Department of Health Caseload Management, Statistical Analysis of Terrorist Attack Probabilities, and Modeling of US Department of Health and Human Services Counterterrorism Resource Allocation. He has provided data analysis support for the police departments of the City and County of San Francisco, the State of Vermont and the Dallas Area Rapid Transit Police and other police departments.
Mr. Latterman holds a Master of Arts in Public Policy from the University of California Berkeley.